Critical Rhetorical Analysis of Social Media Sites
Contributor: Amber M. Buck & Lilian W. Mina
Affiliation: University of Alabama & Auburn University at Montgomery
Email: ambuck at ua.edu, lmina at aum.edu
Released: 15 January 2019
Published: Spring 2019 (Issue 23.2)
Introduction
The most recent Pew Research Center study found that about 67% of American adults rely on social media sites for news, indicating a fast-growing dependence on social media platforms in learning news among people of all ages. Snapchat and Instagram also seem to lead the way as news sources among users in the age group 18-29 with 82% and 51%, respectively. This report shows that social media sites, and even image-based social media sites, may be replacing traditional media as a source of news and information among college-age students. It is especially important, then, as Alexander Fedorov (2010) argues, to teach students to develop critical awareness of the information delivered through media to social media sites. Fedorov discusses multiple assignments and approaches to analyzing media texts in various modalities can develop critical thinking and critical analysis of media content. 
An attention to the interface itself has become an important unit for rhetorical analysis. Collin Brooke (2009) has argued for the importance of considering the interface in composing new media messages. New media, he argues, requires writing and rhetoric scholars to shift "our focus from textual objects to medial interfaces" (p. 6). In addition, Jason Palmeri (2012), Kathleen Yancey (2004) and Dan Anderson (2008) also discuss the importance of asking students to compose as well as analyze multimodal texts. Social media in particular can be a means through which to engage students in multimodal texts, and Elizabeth Buck (2015) notes that these sites can be productive for engagement and analysis for first-year students.
Jose van Dijck (2013) argues that the ubiquity of social media sites has resulted in a widespread fallacy that these sites are simple facilitators of communication and social activity. Most users of these platforms don't think twice about their behavior or activities, or of others to that matter, on these platforms. Contrary to Mark Zuckerberg's claim that Facebook makes the world "more open and transparent," recent evidence and reports confirm the extreme opposite (p. 11). These facts make engaging students with these platforms at a rhetorical level, or tinkering with the context, language, and media of stories circulated on social media platforms, imperative in an attempt to help them challenge and push back against the fallacies about social media sites. The group activity we discuss below asks first-year writing students to rhetorically analyze stories they may, under normal circumstances, like, favor, share, and/or retweet mindlessly. This activity is one model of what van Dijck calls "a functional anatomical instrument, a multilayered analytical prism that allows us to see more than just a technological platform deployed by users and run by owners" (p. 23). It's a model that we hope writing teachers can use to guide students to dismantle the ubiquity of social media platforms and to critically scrutinize the practices and behaviors they see on them.
In this webtext, we discuss a group activity of close, critical reading of news on social media sites using the social media curation tool Wakelet. This group activity aims to raise students' awareness about the rhetorical characteristics of social media spaces and how the different purpose and audience of each platform may dictate a unique way of delivering news events in content, modality, formality, and direction. We also discuss how Wakelet and similar social media curation tools can be used to facilitate multimodal composition and research writing around these topics. The tool allows writers to combine their own analysis with social media texts and examples. That is, the purpose of this webtext is to present a lesson plan that can be used to enhance student critical thinking skills through incorporating the analysis of social media sites and the use of Wakelet. We hope that the use of these media will introduce students to multimodal writing assignments in more nuanced ways.
Group Task: News Delivery across Social Media Sites
Our teaching philosophy bridges the dichotomy of academic and non-academic literacy and practices by asking students to scrutinize everyday practices rhetorically and to extend rhetorical and critical thinking beyond the walls of the classroom. Social media sites lend themselves to this kind of work because as Leah Donlan (2012) argues, social media spaces enable merging "formal and informal learning spaces" (p.3). Extending Alexander Fedorov's (2010) argument that students should be able to develop critical awareness of the information delivered through media to social media sites, we designed a group task of close, critical reading of news delivery on social media sites. We present some excerpts from students' work in a previous iteration of the assignment from a sophomore writing class in 2015.
The pedagogical goal of this group task is to raise students' awareness about the rhetorical characteristics of social media spaces and how the different purpose and audience of each platform may dictate a unique way of delivering news events in content, modality, formality, and direction. Besides enhancing students' textual analysis and rhetorical knowledge, this group task also hones students' collaborative skills required in workplaces. We support Matt Levinson's (2010) argument that unless teachers provide students with access to experiences and skills required in the increasingly participatory culture of work, students are not adequately prepared to play their "future roles as 21st-century citizens and workers" (p. ix). 
What follows is a detailed lesson plan of this group activity with examples of student work from the 2015 Class. We start by describing the context of this assignment to help the reader understand it better and make adjustments as needed in different contexts.
Assignment Context
This assignment was part of the first of four projects (known as Inquiries) in a second-semester composition course at Miami University. Inquiry I was about close, critical reading and it aimed, among other things, to help students "closely examine and critically engage with a text to build close reading, analysis, and the use of textual evidence" (Department of English, 2015, p.166). The course theme was the Culture and Rhetoric of Social Media, and students were required to complete a sequence of scaffolded writing assignments, displayed in Table 1. The purpose of this array of activities was to make students critically and rhetorically read not only various social media sites, but also their own practices on these sites.
Table 1: Assignment Sequence for Inquiry 1
| Assignment Sequence | Focus |
| --- | --- |
| Blog Post 1 | What I read, What I write |
| Blog Post 2 | My social media choices and practices |
| Group Task | News delivery across social media sites |
| Blog Post 3 | How I'm creating a space of my own on social media |
| Analytical Essay | Rhetorical and cricital analysis of a book chapter on social media |
| Blog Post 4 | What I revised in my essay and why |
Using Wakelet in the Classroom to Curate Social Media Content
The assignment and the examples we present here used Storify as a curation tool for social media content. Unfortunately, Storify suspended the creation of new accounts in December 2017 and completely shut down on May 16, 2018. Storify provided both an internal search function for multiple social media platforms as well as a drag and drop feature for easily adding different web and social media content to text. A similar authoring tool, Wakelet, will allow also allow students to combine social media posts with other multimodal, web-based content.  The following instructions detail the process of creating and publishing a story on Wakelet.
How to Use Wakelet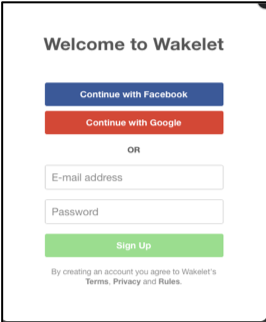 Sign up. First, students will need to sign up for a Wakelet account. After signing up, students can set a profile picture and cover image. We recommend discussing with students the need to exercise good judgment in regards to safeguarding their online privacy in choosing profile pictures, usernames, and cover photos. 
Start a new story. Next, students will click on the green button to start a new collection or story, which will bring them to the editing screen. The left side of the screen is the composing window, while the right panel allows users to search for web and social media content. 

Select and integrate your content. Wakelet allows individuals to include tweets, images, and text. Users can either upload their own images or they can search stock images through Unsplash. Searching Twitter will require students to log into their own Twitter accounts, but they can get around this by embedding the URL of any public content on Twitter.
Add your own links. If students want to add online content that they cannot find with Wakelet's search options, they can copy a web link and paste it into the interface.
Connect content and add your own text. Wakelet stories work best when social media items are connected with text written by the author. Writers can add text as well as links.  
Re-order items. Hovering over any element will bring up an edit button, as well as up and down arrows on the right-hand side, which will let writers reorder or delete content.
Publish. The story is published when the writer hits Save in the top right corner. Users have the option of keeping their story private, unlisted, or public. We recommend that you discuss with your students these different options so that they can make an informed decision about which option works for their content. Private stories remain only visible by the user, while unlisted stories will allow others in the class to view them with the correct link. 

Set a cover image. Users can also choose a cover image that best represents their collection. 
Share. Students can then share the URL for their Wakelet texts on a blog or via email.
Group Task Description
The group task starts with a class discussion of the rhetoric of various social media sites. Students read Jose van Dijck's (2013) description of various social media sites as a springboard for discussion and to extend her descriptions to other platforms they use, such as Instagram and Snapchat, but didn't exist at the time van Dijck's book was published. Working in small groups, each group is responsible for reading and summarizing part of a chapter in van Dijck's book. Each group then live tweets their summaries using the class hashtag. This in-class group work allows students to read one section of a chapter carefully and closely.
To protect students' privacy, two measures can be taken: a) using a class hashtag so that students can tweet their summaries to it without having to follow the teacher or each other, and b) students should have the freedom to decide whether or not they want to use their Twitter accounts in this activity; only one student in each group is needed to tweet the group response form their account. If no students volunteered to use their personal Twitter accounts for this activity, the teacher can tweet the group's responses from their account and add the group name to the tweet.
Pedagogical Tip: It may be useful for the teacher to survey students about their use of social media sites and apps at the beginning of the semester. The teacher can use this knowledge in forming the groups; they can make sure that each group, if possible, has at least two students with Twitter accounts.
After all groups finish their analyses, pull out the Twitter feed with their tweets on the screen for a whole-class discussion of the major points that interested them in their respective sections. 
Later, use Wakelet to aggregate all tweets and arrange them by chapter section to create a meta-analysis of the chapters read. You can use this opportunity to demonstrate to students how to curate content from multiple social media sites, using their tweets as an example. Students are able to see how to collect and organize content to create new meaning, a meta-analysis of the class readings in this case. You can share that meta-analysis with students and encourage them to consider these analyses as they work in small groups to analyze how a recent news story is communicated across three various social media platforms on which they have accounts.
Pedagogical Tip: Due to the possibility that Wakelet may close down as Storify did a while ago, advise students to save their curations on Wakelet as .pdf files for alter access and to use for further research if needed. On the one hand, having curations available minimizes student frustration if the site disappears without prior notice; on the other, students learn more about the reliability of such sites and services and how to always have a backup plan, a necessary research skill.
The assignment sheet provided some questions that students should consider in their rhetorical and critical analysis of news delivery. Students are required to use Wakelet to collect content about their selected news story from the social media sites they have decided to investigate. Wakelet's responsive layout makes it easy for students to integrate multimodal content with their own analysis. With links, images, and other social media content, students can build projects that provide close readings of social media content and connect different social media reactions to an event through common trends. Due to the fact that the content on social media sites is multimodal, or incorporates different modes of communication, Wakelet allows students to expand their reports beyond alphabetic text to include other writing modes, such as videos, images, and hyperlinks. Students may give a brief presentation about their findings, soliciting feedback on their analysis, before they compose their final report.
 
We present some excerpts from students' work from a sophomore writing class that Lilian taught in 2015.  As you can view in Table 2, two major events dominated students' choices: the 2015 Super Bowl (February 1, 2015) commercials and halftime show, and the Charlie Hebdo shooting in France (January 7, 2015).
Group 2 was left out of the below discussion because their report was more journalistic and it lacked analysis required in this assignment. 
Table 2: Students' Choices of News Stories and Social Media Sites
| News Story | Social Media Site |
| --- | --- |
| Nationwide Super Bowl 2k15 Commercial | Twitter, Instagram, YouTube |
| Go Daddy Commercial | YouTube, Twitter, Facebook |
| Jesuischarlie | Facebook, Twitter, Instagram |
| Katy Perry's Halftime Performance | Twitter, Facebook, Instagram, Reddit |
| Charlie Hebdo | Facebook, Twitter, Snapchat |
Group 1
The group that chose the Nationwide commercial started their analysis with the response to the commercial video after it had been uploaded to YouTube and the mass dislikes the video received. students then directed their attention to the comments on the video and how a group of users attempted to reason the idea portrayed in the commercial whereas other users embarked on expressing their outrage at the company. As they synthesized the comments, students concluded that the discussion was almost one-sided with little room for positive comments. When students moved to Twitter as their next platform of analysis, they discussed the viral hashtag #NationwideAMovie that represented one of the various ways Twitter users responded to the commercial. Figure 4 demonstrates some of these tweets to that hashtag. Students concluded that Twitter and the common use of hashtags may have allowed for a more nuanced and varied response to the commercial rather than the flat hatred comments on YouTube. They were able to connect these conclusions back to the nature and rhetoric of each social media platform.

Group 3
The #Jesuischarlie group focused their analysis on the infamous hashtag created after the incident rather than the incident itself and how it was communicated on the three social media sites. Their rationale was that the response to a terrorist act itself was mostly homogenous while the response to the hashtag representing the incident was far from that. Interestingly, students tracked the hashtag across different platforms: from Twitter where it originated to Facebook where it was used to join the world-wide campaign. In their effort to analyze and comprehend the varied responses to the hashtag, students selected three viral memes and examined the comments on these memes on Facebook as seen in Figure 6. They found that while a large group of social media users perceived the hashtag #jesuischarlie as a simple denunciation of the attack and a positive way to demonstrate support and solidarity with the victims' families, another large group of users believed that creating association with the victims and the magazine because it would anger communities whose faith was ridiculed by the newspaper. Students thought that the counter hashtag #jenesuispasCharlie was thus a natural response to the original hashtag. They also saw parodies of the magazine caricatures shared on both social media platforms that aimed to emphasize that Charlie Hebdo was not necessarily a symbol of freedom of speech, but rather the creator of offensive content that shouldn't have been received as funny.
 

Group 4
In their analysis of how Katy Perry's halftime performance was communicated on multiple social media sites and the responses it created, students in this group were able to juxtapose the negative and satirical theme of responses on Instagram to the more positive responses on Facebook. Students looked at memes and hashtags related to the show on Instagram and they identified two themes. The first was that the hashtags used were nothing more than the neutrally descriptive hashtags any social media user can expect to be associated with such large national events, such as "superbowl, #halftimeshow, and #katyperry.  On the other hand, the memes users shared showed much negativity and criticism of the show; criticism targeted Katy Perry's outfit and the lack of synchronization between the back-up dancers. Even though the situation was different on Facebook where the performance was received more positively, students observed that the news reports used the same hashtags trending on Instagram but with a more favorable content. The reports still critiqued some aspects of the show, mainly the costumes, but praised Katy Perry's performance. Students attributed the difference in response on the two social media sites to the age of audience of both sites, with Facebook becoming increasingly the older-generation choice and Instagram being more popular among teenagers and young adults.
Concluding Thoughts
These brief reports about three groups' analyses of various news stories across multiple social media sites illustrate students' immersion in close, critical reading of social media sites, analyzing texts in various media, and reflecting on the rhetoric and composing practices on these sites. Students appear to have developed a substantial understanding of rhetorical knowledge beyond the traditional analytical assignments.
 
Through expanding rhetorical knowledge beyond academic texts to the public spaces of social media sites, and critical personal reflections, students became engaged in class work attempted to narrow the digital divide between students' literacy practices in and out of the writing class (Mina, 2017); This group project  aims to demolish the dichotomy between what are labelled as academic and non-academic skills, while engaging students in analyzing and composing multimodal texts.
However important that goal was, the assignment can be a vehicle to teach students about synthesis. Throughout their reports, students were able to not only analyze the unique ways social media platforms operate and affect communication of news stories, they were also able to synthesize the materials (e.g., memes and hashtags) across the platforms they chose. Particularly, groups two and four walked the tight rope between analysis and synthesis cleverly and smoothly, providing us with a creative way to teach the challenging skill of synthesizing sources to students. Instead of asking students to read two articles or selected readings and to synthesize the argument in them, directing students to the social media sites and apps they seamlessly use to look into the comments on particular posts or the different ways of engaging with certain content in Facebook groups is a more dynamic way to teach students about synthesizing ideas. Once again, teaching a robust academic skill as synthesis through social media dismantles the binary of academic and non-academic practices. 
It's worth mentioning here that even though this group task was very successful and students enjoyed it, we believe that extending this task into a longer assignment over an extended period of time would allow students to engage with the social media content at a deeper and more critical level. Some students selected the content at the top of search results without searching for posts or tweets that were not readily visible to them most probably because of time limitation. So we recommend that you either give students more time to complete the task or convert it into a complete class project.
References
Anderson, Daniel. (2008) The low bridge to high benefits: Entry-level multimedia, literacies, and motivation. Computers and Composition, 25, 40 – 60.
Brooke, Collin G. (2009). Lingua Fracta: Towards a Rhetoric of New Media. Cresskill, NJ. Hampton Press.
Department of English, Miami University. (2015). Miami university teacher's guide for composition (Vol. 67). Plymouth, MI: Hayden-McNeil Publishing.
Donlan, Leah. (2012). Exploring the views of students on the use of facebook in university teaching and learning. Journal of Further and Higher Education, 1(17), 1-17. 
Fedorov, Alexander. (2010). Media educational practices in teacher training. Acta Didactica Napocensia, 3(3), 57-70.
Levinson, Matt. (2010). From fear to facebook: One school's journey. Washington, DC: International Society for Technology in Education.
Mina, Lilian. W. (2017). Social media in the FYC class: The new digital divide. In D. M. Walls & S. Vie (Eds.), Social writing/social media: Publics, presentations, and pedagogies (pp. 265-284). Fort Collins, CO: The WAC Clearinghouse and University Press of Colorado.
Palmeri, Jason. (2012). Remixing composition: A history of multimodal writing pedagogy. Carbondale, IL: Southern Illinois UP. 
Shearer, Elisa, & Gottfried, Jeffrey. (September 7, 2017). News use across social media platforms 2017.  Retrieved from http://www.journalism.org/2017/09/07/news-use-across-social-media-platforms-2017/
Yancey, Kathleen (2004). Made not only in words: Composition in a new key. CCC, 56(2).