"DALN Volunteering at CCCC"
By Shawn Apostel (sapostel@bellarmine.edu)
I volunteered to help set up the Digital Archive of Literacy Narratives (DALN) booth on the first day of Cs, but it wasn't the first time I've done this. 
The first time was at South Atlantic Modern Language Association (SAMLA) in Atlanta a few months ago. I sat behind a laptop and smiled at people as they walked by, hoping they would slow down enough for me to ask them if they'd be willing to record their literacy narrative for this important collection. I didn't get any bites. When Cindy Selfe showed up, it was time to break down the stations. 
I'm pretty good at setting up computer stations and breaking them down. It's the whole "walk around and talk to people" that I'm not good at. I'm not shy. I just don't want to bother anyone. 
A little background information might be in order. The DALN stands for the "Digital Archive of Literary Narratives"; it's a free and open collection of videos, audio, and text in which people tell stories about learning to read or write (http://daln.osu.edu/). I'm sure a ton of people are involved in this project, but the person most known for her work promoting and building the collection is Cindy Selfe. 
Since my volunteer work at SAMLA went well, I figured I'd help Cindy setup the DALN booth at C's this year, and Kristi (my spouse) wanted to help as well. The morning time slot that included setting up the stations worked best for our schedules. We got there early and started getting everything ready for the day. We found flyers; we had the laptops, mics, and power cords. We even hung the sign on the wall. Things were looking great, and Cindy was happy with our progress when she got to the booth. But after the setup, I still had an hour and a half left in my shift. 
It was time for me to encourage people to stop, sit, and record their literacy narratives. 
I've had many jobs in my life. I've done construction, retail, cooking, factory work, graphic design, reporting, photography, teaching, but I've never wanted to do sales. 
So here I am at C's, and I need to get people to stop and record their literacy narrative. To Cindy, this is no big deal. She quickly grabbed a handful of bookmarks, walked down the hall, and began handing them out to anyone she saw. When people weren't walking by, she nudged herself into small group conversations. And, of course, people were delighted to talk to her. 
Now I don't know about you, but I'm not Cindy Selfe. I'm not nudging myself into a conversation. I decided to stand in the hall, try to make eye contact, and smile at people when they looked up from their cell phones. I began by asking the following question:
"Would you like to share your literacy narrative?" The response was pretty much always "I don't have time right now."
Well, that wasn't working. So I switched my question to "Have you shared your literacy narrative?" I found that this question got a better response. Instantly, people felt a bit guilty for not doing it. And those who responded "Well, yes I did!" got a "That's great. Thank you!" from me.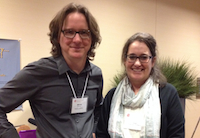 It took a while, but my first recruit was Amy Zenger, from the American University of Beirut. She was interested but wasn't ready to do the recording right that moment. I said that if she recorded her story now, Cindy Selfe would ask her the questions. She agreed, and so did Cindy.
After convincing Amy to record her narrative, I got all excited about the process. I was helping Cindy take a snapshot in time, so researchers in the future can see how literacy has changed over the years. I met some wonderful people and heard some interesting stories. 
As Cindy and I talked about the challenges of getting people to take a moment and share a personal story to strangers on camera, I told her I would design a handout for people volunteering. I wanted to explain how to reach out to people at the DALN booth, but I also wanted to have some fun. So I created a Sparklepony-inspired handout that explains a few of the things I learned that day.